Hesperia, California, April 2, 2011—
WE NEVER PATRONIZE corporate or chain or franchise restaurants. Not because we think we're too good, or because we're snobs; simply because there's almost never a need to; because we're generally curious to see how independent or mom-and-pop places work; or because — this is really the key — we're a little concerned about the healthfulness of the stuff that's likely to be served.
Tonight, though, we're in a La Quinta motel far from any other kind of restaurant, and after a windy day of driving and hiking (short hikes to be sure) we're a little on the hungry side. So we looked at the list of restaurants Maps told the iPhone were anywhere nearby, and picked the one that looked most likely. (We were swayed by the fact that one friend, an Italian at that, recommends it.)
So after a perfectly acceptable Martini we tucked into quasi-Italian fare: for all of us, a good green salad, rather nicely dressed; for me, afterward, a "Steak Toscano": lean beefsteak grilled rare, dressed with olive oil, and accompanied by a roasted potatoes, some sautéed bell pepper, and a huge spray of rosemary.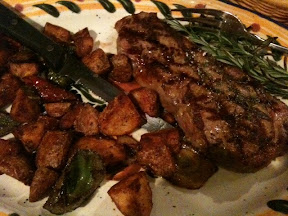 I have to say, there was nothing wrong with this. I was impressed with the quality, the execution, and the service, from a winsome young woman only recently transplanted from her native Missoula. The meat was lean and flavorful, the potatoes clean, the salad well balanced. For dessert I had a small tiramisu flavored with Amaretto, and a decent espresso with a small glass of Amaretto on the side. Not one of the four of us was less than satisfied, and whenever I'm stranded for dinner in the future I'm likely to look for one of the six hundred plus outlets in this chain.
House red: "Principato rosso"
- Posted using BlogPress from my iPad